Every day, teachers across the world use SMART software to create and deliver lessons. When you sit down to create those lessons, when you stand in front of your students to present those lessons, and when you want to share those lesson with your students, we want your experience to be stress-free.
Teachers are taxed for time. Lesson prep can't always happen during school hours, and each moment spent with students is precious. Spending time on things like managing files and having to use multiple software platforms cuts into that valuable time.
We're happy to share with you a new way to help overcome those challenges; our newest software offering, SMART Learning Suite Online, launches in beta today! This new web based platform allows you to easily access and distribute lessons to student devices, enabling active learning.
This new tool is available for free now – visit suite.smarttech.com to sign in to the beta version. The full version will be released in the coming weeks and will continue to be free for you to try until the end of October. On Tuesday, August 22nd we hosted a live demo with one of the developers behind SMART Learning Suite online - check out the replay now.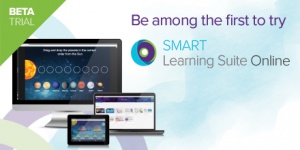 SMART Learning Suite Online
This new tool works with your SMART Learning Suite subscription and existing SMART Notebook content to support the way that you organize and deliver lessons. Once logged in, teachers can access their saved Notebook files from anywhere, be it the front of the classroom or from home in the evening.
In the classroom, SMART Learning Suite Online allows teachers to push out lessons to any type of student device. Students can follow along with you and interact with the content on their screen much in the same way they would a paper handout.
When it is time for a new lesson, SMART Learning Suite Online makes it easy to pull up a new Notebook file, activity or assessment,, ensuring that your students don't lose focus while you search for a file. When you switch to a new activity, connected student devices switch too, keeping your students engaged with the content. Teachers can also use SMART Learning Suite Online to quickly launch activities that encourage class participation, such as 'Shout it Out' and the new 'Instant Page'.
SMART Learning Suite Online was developed to support you, the teacher, in your classroom. It was created to not only solve classroom concerns but to save you time and frustration. We know that when teachers can do their job unhindered, they're at their best.
We're looking forward to hearing your feedback on this new tool – the beta version is now available with many of the features that will be offered in the full version. The full version will be available for free online in the coming weeks.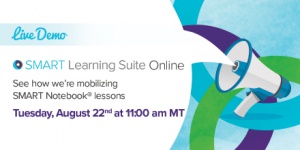 Have questions about SMART Learning Suite Online and how it can support your teaching? Check out the Facebook live demo that we hosted with Software Program Manager Min Xin - watch here and feel free to leave your questions in the comments below.