One of my roles as district digital resource teacher is to facilitate a cohort of secondary teacher leaders who support 1:1 digital implementation (DI) at their schools I
know that most of these blogs focus on how students use technology, but I want to share how these same tools can have an impact on teachers. When teachers engage with digital tools in meaningful ways, they are better able to implement them in their instruction in ways that matter to their students.

Teachers use Super Sort to at the panel and their seats to review key concepts of DI
We've Got a Problem
This year we are looking at how to best use digital tools to differentiate instruction. We reviewed the key concepts of DI with a Super Sort in SMART Learning Suite.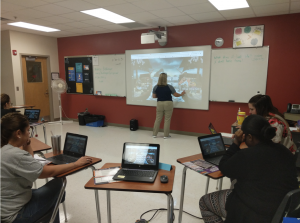 We realized that we had big questions about how to support our classroom teachers in implementing differentiation. What did it look like? How could they find the time? Was this just another initiative added to their already full planners? We had the problems, but no real solutions.
I had been learning more about Project Based Learning (PBL) and the latest updates to the SMART Learning Suite Online (SLSO) resources. PBL provides a path to identify a driving question, research and build knowledge, develop and critique products and then present products and answers to the driving questions. SLSO supports reflection and collaboration.
Would these strategies work for teachers as they attempt to solve these problems? I think the answer is "Yes!".
We've Got a Project!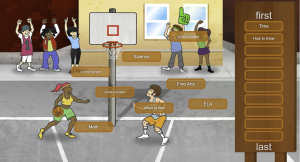 In our upcoming sessions we'll prioritize the issues in an SLSO Work Space Rank Order activity. We'll use a Shout-It-Out to brainstorm potential solutions and to ask ourselves deeper questions. Once we've done our research, we will collaborate on Work Space Activities to refine our work and provide feedback. These teacher leaders will be able to use SMART tools to easily screen capture and record lessons that model DI while providing specific examples for content area teachers.
One might think that sophisticated and talented secondary teachers would not identify with the pirates, sea scenes and monsters, but they do! While we puzzle through complex challenges we can enjoy canon fire, swooping dragons and friendly monsters along the way.
We'll Have Authentic Answers!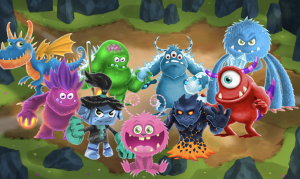 I'm grateful to work with a cohort of energetic and dedicated educators. I'm happy that we have diverse digital tools to utilize. I'm looking forward to seeing how wework through the steps of PBL to have an authentic impact on classroom instruction and student learning. I'll report back on what we discover about what differentiation looks like in secondary classrooms and the outcomes for our students and teachers.
Nancy Biddinger is a career educator with over three decades of experience. She is currently an instructional technology resource teacher supporting schools as they implement digital resources in instruction. Among her favorite things to do are cooking for her family and hanging out at a friend's horse barn. Learning to ride horses later in life has proven that it's never too late to learn something new. Nancy keeps this in mind as she and her colleagues work together to grow as educators in the 21st century.
Twitter: @BiddingerFL