During the Inspire Greatness Conference 2018 in Sydney this past September, I had the privilege of chairing the Executive Round Table held in the Grace Cossington Smith Gallery at Abbotsleigh School for Girls.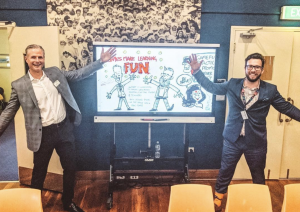 The conversation began with Jeff Lowe and Giancarlo Brotto presenting recent global research from SMART Technologies, with a focus on the research's Australian findings. The global research has brought together data from a wide variety of global sources to define 22 capabilities that drive tangible outcomes for students and teachers around the world.
Australia is well positioned globally, trailing only China and the USA on self-reported performance in the capabilities that drive success. The research identified the three highest developed capabilities in Australia to be:
Commitment to high-quality PD for teachers
Assessment of students
Technology Infrastructure Management
It also identified the three focus areas of opportunity in Australia to drive higher outcomes to be:
Support for social-emotional learning
Strategic technology planning
Engaging teachers and parents in technology planning
Australian schools use a variety of standards frameworks to inform their practices some generated by jurisdictional agencies and others by professional association, some international and some local. This global research is open and Australia schools can participate at www.smarttech.com/profile and receive a personalized assessment and action plan to optimize their outcomes through EdTech.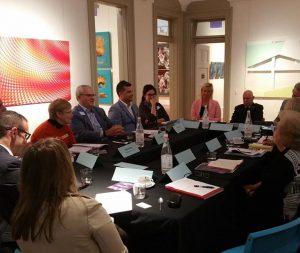 The group responded that is type of research and feedback very useful important for schools. It was also agreed that responses to standards frameworks are informed by context. There can, for instance, be a difference in the responses using such a tool for self-reference as opposed to responses which would be shared with other schools or district personnel.
The group agreed on the importance of such frameworks, but they also discussed the capacity of schools to evaluate their own capabilities. Many schools find it difficult to assemble evidence to be able to understand whether interventions or EdTech usage had impacted learning or how professional learning had led to learning impact.
One jurisdiction articulated the fact that they had in the past focused on assessing the technical effectiveness of EdTech rather than the learning impact. Now, however, they were building into their technology infrastructure management and with the adoption of new technologies including ways to assess learning impact, not just technical functionality.
The assessment conversation then broadened to include the complexity of assessing social-emotional learning and the importance of providing schools with assessment guidance as part of and new curriculum implementation. The importance of both fields of knowledge being brought to the education table was discussed. Often assessment is not considered in tandem with curriculum development and teachers are not necessarily provided with the training to assess new areas of the curriculum or provided with new tools for assessment.
There was also the belief expressed that assessment of students was variously implemented across the curriculum. For instance, whilst progressions in learning were understood by teachers for fields of knowledge such as literacy and numeracy which have been built on a history of research and deep work some of the new fields such a technology and social-emotional learning are only in the early stages of knowledge creation. Educational research needs to be agile here to model the speed of technological change with increased knowledge exchange of what works to teachers and how to assess learning.
The findings of the global research also resonated in terms of engaging teachers and parents in technology planning. The group agreed that it was important for schools to involve parents in understanding the use of technology for learning. Parents are often afraid of EdTech as it was not necessarily part of their own education. They are also not familiar with the technologies that their own children are using. It was felt therefore that a very important strategy for schools is to have parents and teachers working in partnership and sharing their knowledge.
There were also discussions regarding strategic technology planning and technology adoption and the time that it takes both for teachers and students to become efficient users of a technology. One member indicated that it can take hours of time for students to become familiar with a new technology e.g. Minecraft and therefore the use of this curriculum time needs to be analyzed in terms of the learning benefits for students.
The conversation also revolved around the time it took for teachers to implement digital content effectively. The group agreed that there was no shortage of quality digital content especially as the Australian government had invested significantly in developing digital content for teachers to support the national curriculum.
However, the group discussed the fact that often teachers identified a lack of time and capacity to search and deploy digital content. Once located teachers needed to understand, how to deploy it, to understand its inherent learning sequence and its functionality and then to be able to customize it for their students or to incorporate into a learning management system.
A solution being investigated by one jurisdiction is to develop smaller pieces of digital content, "assets" which can be flexibly incorporated into software or a learning management system as appropriate to the needs of students.
This does require the significant capacity building of teachers. These skills and abilities need to be part of the change management process for introducing new technologies into the classroom. As technology rapidly changes teachers needs to become "agile educators" who are curious about what technologies engage their students and who work collaboratively with other teachers in the school to know what works best within their own school contexts.
In the rollout of any new technology within a school, the group to focus on are not always the "early adopters" who often have a community of practice beyond the school through social media groups. Instead, the group to focus on is the influencers who have status within the school and who are only willing to implement new practices when change can be demonstrated to improve learning. Once these influencers adopt a technology the rest of the school will generally follow.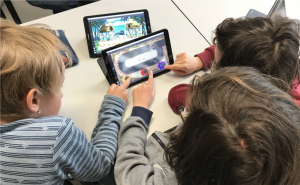 The group agreed that commitment to high-quality PD for teachers was key to change and understanding how teachers learn best is very important. Using strategies for teacher learning such as gamification, flipped learning, the use of metaphor and sharing models of practice within the school. Making professional learning fun for teachers and creative was also emphasized. One scenario which was shared with the group was for participants to use Lego pieces to create a model of what they hoped to gain from a professional learning session and to share their expectations with the group by describing the model they had created. Articulating their own learning intentions created a collaborative work environment. It was the belief of the group that modeling new ways of learning for teachers in their practices will assist them to bring new ways of learning to their students.
Providing opportunities for educators to have the time for deep conversations about what matters and sharing those deliberations is also an important tool for professional growth. We at SMART are very grateful to these educational leaders for sharing their wisdom with us and I trust that you enjoy reading this account of their reflections.
The members of the Executive RoundTable included:
Donna Blatchford R/.Principal Curl Curl North Public School
Giancarlo Brotto Global Education Strategist, SMART Technologies
Greg Estell, President, SMART Technologies
Kirsty Goodwin, Digital Health and Wellbeing Expert
Bronwyn Hession, Consultant, Professional Learning, NSW Catholic Schools
Phil Lambert, President, Australian College of Educators
Jeff Lowe, Chief Marketing Officer, SMART Technologies
Donna Moffat, Director, Learning Innovation, Abbotsleigh School for Girls
Peter McAlpine, Director, APAC, SMART Technologies
Leanne Robertson, Project Leader, Digital Hub, Education Services Australia
Sally Ruston, Principal, Abbotsleigh Junior School
Martin Spears, Group Executive Assessments, UNSWGlobal
Bronwyn Stuckey, Consultant Gamification, Community of Practice Expert
Ian Tibbett, R/Leader, Learning Design and Development, Learning Systems, NSW Department of Education
Bridgitte Van Leuwen, Head Children, Families and Creative Learning, Sydney Opera House
Sue Beveridge
Education Advisor
SMART Technologies ANZ