This blog post was written by Kellie Campbell, a first grade teacher at Southfield Elementary School in Bibb County, Georgia. Kellie was ready to give up on teaching after her first year, but was reinspired when she saw the engagement that SMART software could drive in her classroom. She has just begun her second year teaching in Bibb County.
Since I was a little girl, I always dreamed of becoming a mother, I loved children and wanted to help them strive to be the best version of themselves possible. I never became a mother, but the next best thing was becoming a teacher.
I did not go to school for education. I graduated from California State University, Fresno in 2016 with my bachelor's degree in psychology. I spent a lot of time in classrooms and child care facilities observing and working with children of all ages; my passion for helping children flourished during that time. I have since become a teacher through the waiver program in Bibb County and I am currently finishing my Masters of Art degree in Elementary Education.
I have just begun my second-year teaching first grade. At the end of the last school year, I was introduced to SMART. After my first year, I was feeling incredible frustrated and like a complete failure when it came to successfully educating my students. I was at a loss and ready to give up on teaching entirely, but after I observed my first lesson using SMART from our instructional technology coach, Bobby Lewis, and I was blown away. I instantly knew that my students would fall in love with the program as well.
I was amazed at how the endless the opportunities are; each lesson can be tailored to fit each child's individual needs. Differentiated instruction is something that has taken some time for me to feel comfortable implementing within my classroom, and using SMART makes it so much easier. With the help of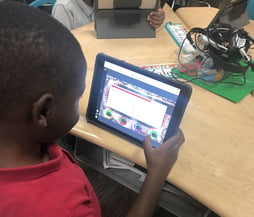 Mr. Lewis and Bethany Ray, an instructional technology coach within our district, I was able to create my own lessons where my students are all working on the same lesson, doing similar things, but at their own level and pace. No student is feeling singled out for not being the smartest kid in the class, or at the same pace as his/her peers. Students are able to remediate and accelerate their learning all within the same lesson. After a few short months of implementing SMART in my classroom, I no longer wanted to quit. I felt like I could be a teacher, and a really great teacher at that.
Supporting Today's Students
SMART really gravitates to the needs of students in today's world. We are a technological society, and for our younger children smart phones, smart TV's, laptops, and iPads have been central in their lives since birth. My students do not even realize that we are implementing the tools and strategies I previously taught them through the games and activities on our SMART lessons, and thanks to the interactivity are highly engaged throughout the entire time we are working.
My students love that we have the monsters "in real life" in our classroom. They are an awesome behavior incentive I have used with my students: if they can show that they are working hard on their assignments and being the best leader they can be, they get to spend a lesson with the monster of their choice at their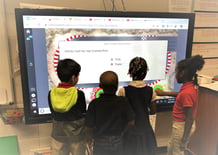 desk. The idea behind the monsters is amazing. Like other social-emotional skills, collaboration is key in today's society, and for the workforce of the future. Our first monster we received, Sverre, helps my students learn that concept. My students are able to take ideas and concepts that we have discussed and bring them into real situations through their interactions with our monsters.
SMART software is more than just a computer-based program, it is educational tool that has helped foster the learning environment in my classroom and throughout Southfield Elementary School as a whole. SMART has helped motivate and provide me with the tools I need to become the best teacher I can for my students. I can't wait to see what this year has in store!
Learn about the software Kellie is using in her classroom here.