Miss being in front of your students? Form deeper connections across any distance with Google Meet on your SMART Board

®

for truly engaging learning experiences
Google Meet is there when we need it, but teaching a class over video conferencing sure can be chaotic! Did you know your trusted SMART Board can help you? Connect with your students and keep them engaged, whether they're in classroom, remote, or both!
Teach using the tools and workflows you're used to like pens, inking, touch and gestures instead of being limited to a computer mouse - your SMART Board provides the natural feel of every day teaching, even in a virtual environment.
Wait, I can video conference on my SMART Board?
Absolutely! Connect any Windows PC, iOS or Chrome device to your SMART Board for a high-quality experience sharing screens, audio, and video with Google Meet. Screen share SMART's powerful learning tools, web browser and other apps to your students, while they watch you ink and annotate in real time!
Participant galleries display in high definition on your SMART Board, helping you better connect with students at a distance.  Every pixel counts – see your students clearly.
See what it looks like for you and your students!
Instructional Tools for Phenomenal Learning
Focus student attention while screen sharing with active inking and tools for lessons, documents, and browser. SMART ink puts the focus on learning, and is included free with every SMART Board. Write into and over any document, and hold student attention with spotlight and magnifier super powers! Plus, make bright ideas standout with a plethora of pen tools in SMART Notebook, including the Magic Pen and Highlighter.
What's shorter than a student's attention span in the classroom?
A student's attention span while learning remotely. 😥

Students retain more from witnessing teaching in real-time
Distractions, device scheduling and sharing conflicts… the list is endless and the odds stacked against holding student attention in a remote learning environment.
With Google Meet on your SMART Board, remote students can tune into screen sharing alongside live video of their teacher delivering the lesson.
So no matter where they are, students can watch their teachers teach, including live annotating and whiteboarding.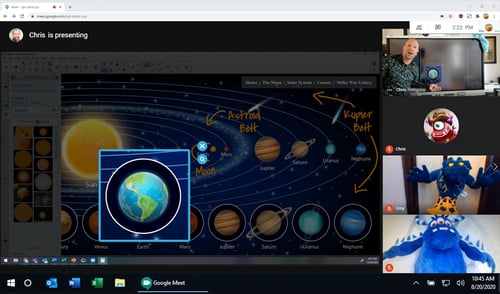 Miss being in front of your students?

Keep the focus on learning and familiarity. Students can see you up at the familiar SMART Board and keep the continuity of a classroom experience remotely to better learn and retain information. Attention is captured and imagination fires.

Build meaningful connections in blended learning environments
With classrooms looking different these days, it can be challenging to build connections with students you've never seen. Connect across any distance with video conferencing for truly engaging learning experiences.

All-inclusive learning environments
Whether remote or in class, teachers and students can interact easily with one another via a larger, high-res video gallery.
Teaching environments are becoming increasingly complex. But you can maintain your tactile workflow of teaching and familiar front of room instruction with Google Meet video conferencing on your SMART Board.
But wait, there's more! Amp up your lessons with the SMART Learning Suite app for G Suite



Looking to bring more classroom tools into your virtual lessons? The SMART Learning Suite G Suite app gives teachers the power to turn static old Google Slides, PDFs and more into interactive, engaging lessons – and an easy way to get your students into breakout groups with collaborative workspaces!
It's a place for cloud-based classrooms to connect using any student device. Where students can work in lesson activities with full guidance just like you're all in the same room. Go beyond blended and truly connect your classrooms from any distance – learn more about SMART Learning Suite and G Suite.
Not an SLS Online user yet? Get started today for free.