We are thrilled to announce that CRN, a brand of The Channel Company, has named Jenna Pipchuk, Executive Vice President and Chief Sales Officer, to its 2022 Channel Chiefs list. The annual project identifies top IT channel vendor executives who continually demonstrate expertise, influence and innovation in channel leadership.
Jenna joins a select list of innovators being recognized for their channel dedication, industry stature and accomplishments as channel advocates. The 2022 Channel Chiefs are influential leaders who continue to shape the IT channel with creative strategies, programs and partnerships.
"CRN's 2022 Channel Chiefs recognition is given exclusively to the
foremost channel executives who consistently design, promote, and execute effective partner programs and strategies," said Blaine Raddon, CEO of The Channel Company. "We're thrilled to recognize the tireless work and unwavering commitment these honorees put into fostering outstanding business innovation and building strong partner programs to drive channel engagement and success."
Jenna, who is currently responsible for global sales, joined SMART in 2007 and has over 20 years of experience in technology. Seeing firsthand how changes in the market reflect changes in our ever-evolving world, Jenna's insights and leadership have proved critical in enabling breakthrough IT channel performances, connecting and empowering technology suppliers, solution providers and end-users, and sharing why SMART is more relevant than ever to help partners win business. She started her career in Product Management and has helped bring many successful products to market for SMART. Jenna holds a BSc in E-commerce from the University of Phoenix.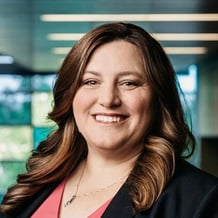 "I'm so honored to receive this recognition," Jenna said. "My end goal is to ensure that products, designed for hybrid learning and working, are available to meet our mutual customers' needs. Channel relationships have always been the key to finding new ways to share our solutions, learn from each other, demo, and get support. Dedicated interest in growing together, being consistent and fair, protecting investments, and building long term partnerships is important to me."
Last year, Jenna helped SMART evolve how we do business by opening our channel like we never have before. After 30 years of operating with an exclusive channel of limited partners who were only authorized in specific North American regions, SMART recently made strategic changes to our reseller channel to ensure end customers have more ease of access to bring SMART solutions into new classrooms and businesses. By opening national access to resellers as well as allowing new resellers to become authorized, Jenna helped lead initiatives to ensure that the latest innovations in interactive technology are available across all fifty states and Canada. By opening our North American channel to new reseller partnerships, SMART looks forward to providing partners with greater opportunities and resources to meet the growing demand for SMART's interactive displays and solutions.
In addition, Jenna is constantly refining her understanding of the customer journey. Last year, she and a colleague recognized that they were missing opportunities for current and prospective clients because they were siloed. Needing to better align their commercial functions, they created a "Unified Commercial Engine" (UCE), which is built on a careful mapping of customers' buying journeys and is centered around five common buying jobs (Learn, Buy, Order/Install, Adopt, Support). They redeployed their team, and Jenna is spearheading a new way of thinking. All in all, she is a Channel Chief that is closely aligned with her channel partners and their colleagues making buying decisions on the ground,
CRN's 2022 Channel Chiefs list will be featured in the February 2022 issue of CRN Magazine and online at www.CRN.com/ChannelChiefs.
The Channel Company enables breakthrough IT channel performance with dominant media, engaging events, expert consulting and education, and innovative marketing services and platforms. Backed by more than 30 years of unequaled channel experience, The Channel Company draws from its deep knowledge to connect and empower technology suppliers, solution providers, and end users while envisioning innovative new solutions for ever-evolving challenges in the technology marketplace.