This guest blog post was created by Smarter Systems, the trusted AV and collaboration technology partner in the enterprise and education markets. Smarter Systems launched in 2008 in Charlotte, North Carolina, as a company with a vision for designing and installing state of the art classroom technology for schools.
Classroom technology: "Setting" the Standard
Classroom settings can change as quickly as the seasons. What was once a kindergarten classroom filled with art projects and cubbyhole desks can be changed almost overnight to a 5th grade math classroom with pie charts and graphs in place of finger paintings. Schools have to be flexible when it comes to instructional real estate, and that makes standardizing technology absolutely critical. Standardizing technology within a school or throughout a district may seem like a daunting task, but will result in fewer headaches, more instructional time, happier teachers, tech facilitators, and IT technicians.
When standardizing education technology, it is vital to keep these three things in mind:
Equipment
Timeline
Partner
Let's dive into each of those!
Equipment
When every classroom has the same equipment, all stakeholders can benefit from the continuity. Teachers have access to the same tools and instructional resources as their colleagues, eliminating negative feelings that may arise when facing inequality. In addition, teachers are often required to relocate classrooms due to testing or for coverage; walking into an unfamiliar classroom that is equipped with the same technology as a more familiar one, allows instruction to continue without the interruptions. Administrators are able to assess pedagogical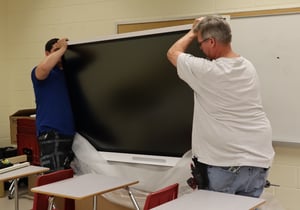 observation data fairly, and students have the benefit of consistency and prior knowledge of how they can interact with and benefit from systems. Finally, tech facilitators can save hours of troubleshooting time with standardized classrooms because when a problem is solved in one classroom, it is much easier to solve it again in the classroom down the hall.
"It's extremely important just to make sure that no matter where you are in our community, no matter what school you go to, that you are getting the same level of education, the same level of opportunities, and that starts by making sure the classrooms have the same level of equipment", says Brian Spittle, Executive Director of Technology Services for Fort Mill Schools.
His South Carolina school district has spent the last six years upgrading nearly 1,200 Kindergarten through 12th-grade classrooms with SMART Board Interactive Displays and SMART document cameras. Spittle said, "We tried to develop what a standard classroom should look like." As you walk in classrooms of older Fort Mill schools, you'll see the same classroom set up at the new builds. If you walk into a 1st-grade classroom, they'll have the same technology as a standard high school set up. This has had an immense positive impact on the school and community.
Timeline
Now is the time to start planning for summer upgrades. Summer and holiday breaks are typically the best time for installations since students and teachers aren't in the classroo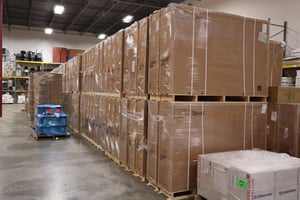 m. For instance, all installations were completed for Fort Mill S
chool District during the summer months. To accommodate budget and resources, leaders chos
e to implement it over several years, focusing only on a few schools throughout the summer. Standardization made the timing and budget planning straightforward for this district – ed tech decision making and buying has enough complexity without managing a variety of different technologies and the accompanying timelines for installation and implementation.
Partner
Since the timeline for upgrades is tight, it is crucial to choose a reliable partner who communicates well and can deliver what they promise. Spittle said, "We were looking for an integrator and installation team who could do a professional job, someone who could meet the requirements of trying to do somewhere around 200 classrooms over 8 weeks because we could only do this replacement in the summer."
Standardizing technology has worked really well for Fort Mills Schools, with community members at all levels feeling confident about the technology investments made. What other benefits of technology standardization have you seen? Leave a question or comment below!