Hit the ground running with these new updates for blended learning. Reach students everywhere and engage in real-time.
With the new school year starting, teachers have already hit the ground running, finding creative ways to support and engage with their students beyond classroom walls. And we at SMART commend all of you!
Drumroll please…
You asked, and we answered with exciting new updates in SMART Learning Suite Online to help keep learning going strong – from anywhere.
But wait – what is SLS Online?
Let's not get ahead of ourselves here. If you aren't already a SMART Learning Suite software subscriber, (or heck – even if you are) you may not know there is an online version called… you guessed it: SMART Learning Suite Online or SLS Online for short.
Any device, any lesson
SLS Online is a web app that gives teachers the power to turn static old PDFs, Google Slides, Microsoft® files and more into interactive, engaging lessons. It's a place for cloud-based classrooms to connect using any student device. Where students can work in lesson activities with full guidance just like you're all in the same room.
And now for the latest and greatest updates to the all-in-one software solution for anywhere learning…
Be there for students, anywhere with new Instructional Audio
Wish you could climb through the computer screen to better support a student at home? It's tough to connect through this time of blended and distance learning. But soon you'll have a new super power to amplify your teaching voice!
Introducing the easy to use Instructional Audio feature in SLS Online. A tool to add your voice to any lesson page providing verbal explanations and instruction for more interactive, supported teaching anywhere. Instructional Audio is live now in SLS Online, just in time for back to school.
Quickly and easily record audio narration for any lesson page right in SMART Learning Suite Online, without having to use any external recording software.
Can you repeat that?
Stay in sync with asynchronous learning – be there for every single student, on their schedule with recorded instructions they can review at their own pace, as many times as they like.
Foster social-emotional skills – not just a cold screen for students to stare at, reinforce meaning with the friendly recorded tone of your teaching voice to guide them through lessons and build connections from afar.
Support a literacy-rich environment – enhance lessons with read aloud recordings students can follow along with, special pronunciation instructions and more.
Empower student voice and choice – students can choose their own learning adventure with audio instructions that guide them to different lesson slides and assignments based on their needs and preferences.
Three cheers for student equity! – help auditory learners get the exact instruction they need to succeed.
Audio is included when the file is shared, whether you're assigning it to students or sharing your awesome work with another teacher!
Add an element of live teaching, instruction, and support auditory learners today with new Instructional Audio!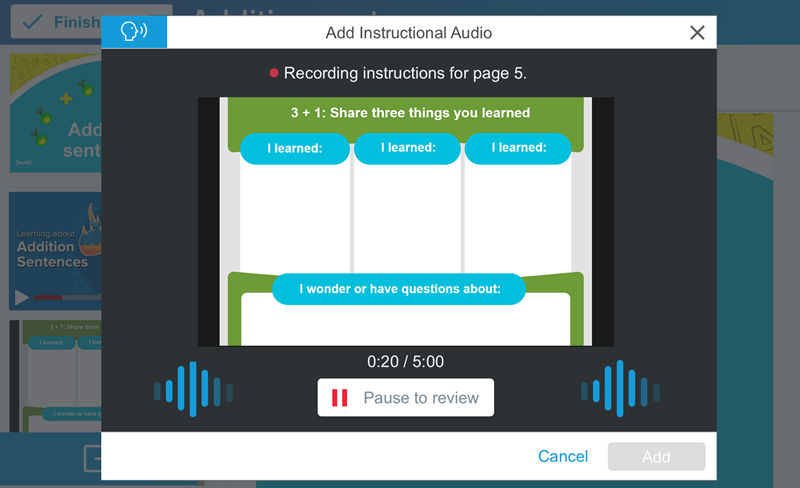 See how each student is learning, in class or at home with Workspace Attribution
Now it's easy to assess group projects with Workspace Attribution. Monitor and evaluate individual student work in small group and whole class Collaborative Workspaces.
SMART Learning Suite Online displays which students have added and edited items in a shared Workspace, providing insight into learning and increasing student accountability.
When students add images, text, links or drawings in a shared Workspace, their names appear above the object controls when you select the image, text, or drawing they've added.
Now group work no longer means that everyone gets a B! ;)
If you share a take-home copy of your lesson with students after they've started contributing to a Workspace, their names remain attached to their contributions. However, if you give a copy of the lesson to another teacher, student names are removed to protect student privacy.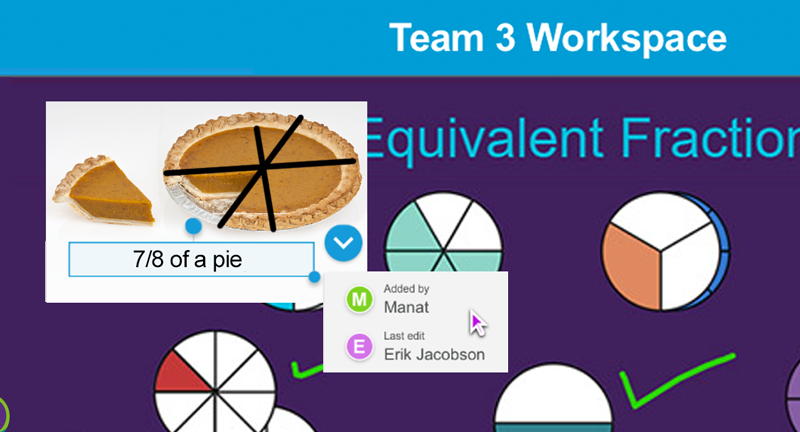 How and where learning happens continues to change – but with SMART solutions, you have the power to maintain a sense of normalcy and keep fostering the connections that happen between teachers who care and students who feel seen and supported.
Go beyond blended and truly connect your classrooms from any distance with SMART Learning Suite Online.
Log in to SLS Online today for a what's new tutorial to get up to speed!
Not an SLS Online user yet? Get started today for free.
PS: In case you missed it, check out how SLS Online now integrates with G Suite, Google Classroom and Microsoft Teams®!